We're commonly asked what the "average cost" of KC roofing is or what factors into the cost of roofing in Kansas City. This is a very important concept to understand when you call prospective contractors. You can't compare apples to oranges — and that's just what some contractors give you at first! Also, it's tempting just to look at the bid and say "Yea" or "Nay" based solely on the bottom line. Yet, there is much more to KC roofing than meets the eye.
Average Cost For KC Roofing Repair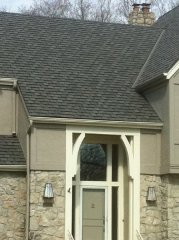 If you look at just the cost of  roofing materials (shingles), you're looking at $100 to $300 per square, depending on the manufacturer or style. You will also need to pay the contractor's labor charges, which can take the total cost of your repair job to $1,500 on average. Getting a complete roof redone could cost you in the ballpark of $5,000.
Why The Lowest Price Doesn't Tell The Full Story On Roofing
Warranty:

Some shingle manufacturers will guarantee their products for 50 years, while others only guarantee 15 to 20 years. Are you really getting a lower price if you need to replace your entire roof faster?

Experience:

 You might be paying less because the roofer is less experienced too. Before hiring a contractor, take a look at the BBB to see their years in business, check references, and look at photos of their work.
Are you looking for affordable high-quality KC roofing? Call Eclipse Roofing at 
913-262-4700