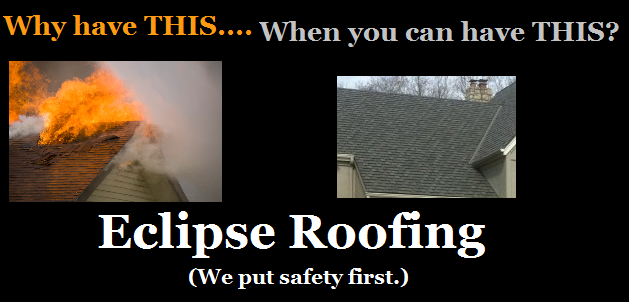 A recent news story underscores the importance of finding the most QUALIFIED and EXPERIENCED roofers KC has to offer, not just the lowest bid. Firefighters battled a house fire at 2714 Askew in Kansas City Sunday afternoon. Thankfully, no one was injured, but the fire did result in approximately $25,000 in damages to the home and its contents. Officials said the fire was caused by a roofing contractor's heat source placed too close to combustible materials.
Roofers KC Contractors Take Precautions In The Heat
It doesn't take much to start a fire when the roofing materials are already heated up from the 90-degree weather we've been having. Our contractors are fully trained in how to deal with tools and materials in extreme heat. We also make sure our crews are protected during the hot weather. The recent fire occurred around 4:45 p.m., toward the end of a shift, after working outside all day. We give our crew members plenty of water and frequent breaks to avoid fatigue, sun stroke, or impaired decision making. We also rotate our crews so everyone is fresh. On occasion, we cut back on hours or halt jobs altogether if the heat is unbearable. You will never have to worry about liability, as we are fully licensed, bonded and insured.
We install shingles from top-of-the-line manufacturer, CertainTeed. We put fire-resistant asphalt architectural shingles on your roof that have heavy granulated top coats that will not easily combust into flames. We can also install the Landmark Solaris line of energy-efficient shingles if you'd like. They divert excess light and heat away from your home to lower your cooling bills in the summer.
We're an Angie's List "Super Service Award" winner that has been in business locally since 2003. We can do full-service roofing, re-roofs, roof repairs, gutter installation, and roof construction work. We have a loyal, consistent workforce of trained and dedicated professionals. We'd love to offer our safe and professional service.